Short walk in Neukölln with Belle Santos

Photo by Dylan Spencer-Davidson
So, Belle, tell us please a little about yourself.
Hello, My name is Belle. I come from theater and performance art background and I'm currently a student at the
KHB Weißensee
here in Berlin in the reading Stage- and Costume Design department . I grew up inbetween countries and oceans, but feel most at home at sea. Other than that, I'm ca. 1,74 meters tall, I like foxes, collect spoons and my favourite colour is blue.
Can you give us a brief description of your most recent project apart from B_Tour?
I usually work on several projects simultaneously, but one I particularly enjoyed was covering a room in layers of liquid wax, fat, sugar, salt and gypsum plaster. Once it had all dried, I used the space in an archeological-style, digging up beautiful crystal formations, and building little towers out of the remains.
Is there a particular motivation behind your work
?
The motivations depend on the projects. But a common theme is freezing time, and drawing my audience's attention to the 'invisible', the ephemeral and the ones with no audible voice.
What does public space mean to you?
It definitely doesn't mean outer space! Perhaps its the place where different histories and minds are randomly combined, writing new stories into time.
To conclude, Can you tell us a little bit about the tour you are devising for the festival?
I
chose to create a tour leading through the
Körnerpark
. The Park is an unexpected sight in the midst of the rather rough area of Neukölln. For my research I interviewed different inhabitants of the park or from the area, collecting their viewpoints and memories related to the beautiful historic space. My tour will be a presentation of 'Blue Plaques' (documenting short anecdotes) spread out in the park, and the audience will receive a map locating these plaques. For this scenographic instillation I tried using the park as a stage, where several 'scenes' are hidden behind the words. It's up to the audience to actually 'see' the performances, by animating their own imagination triggered by the hints I'm offering them. I'D ALSO LIKE TO NOTE TO COME SOONER THAN LATER – the sculptures are made of ceramic, and since its in a public space in Neukölln, the installation might only survive one day...!
Thank you very much Belle, we will see you at the festival!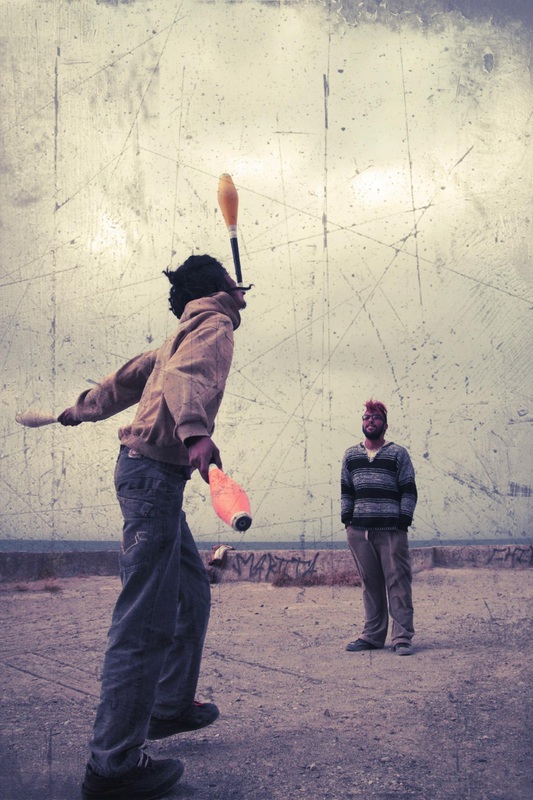 Between the steps
Text by Agata Rogowska
Photo by Or Raudanski

When I think about a guided tour the most exciting aspect of it would probably be the act of following someone and entering the guide's privet world. There is a certain intimacy which is created between the guide and the participant, one which is so delicate and personal.

Good examples of this are the works by Amy Sharrocks and Myriam Lefkowitz. In the first one – A walk with Amy [http://stuttg-arttours.de/a-walk-with-amy/] – Sharrocks organizes tours which are guided via mobile phone. She calls participants (Amy is based in London while the project is realized in Stuttgart) at an arranged time and they both take an about 30minutes' walk in a chosen site. During the talk-walk, participants and guide are describing their surroundings; talking about what they see and based on their dialog, they decide where to go next. And so, in fact the participants and the artist are constantly switching their roles, they are both describing and choosing the other's route. How is it to guide someone based only on their descriptions? How is it to be guided by someone who doesn't know anything about the place you are located at?

The Eye Walk [http://stuttg-arttours.de/the-eye-walk/] by Myriam Lefkowitz is another sort of intimate game between the artist and the participant. Lefkowitz is taking participants for a walk with their eyes closed. She leads them by the hand through the city to chosen locations. There, she asks them to open their eyes, snapshot the view and close them again. Participants are engulfed with images which were carefully selected by the artist. The limited visual exposure puts an emphasis on experiencing the space through other senses. In addition, due to the close interaction between the participants and the guide, spaces become fragments of a slowly developing relationship between the artist and the audience.

Projects which use guided-tour-as-an-artistic-strategy riley on a fundamental connection, and even dependency between two people.

How do you feel about being led by a total stranger?

B_Tour Festival is fast approaching with a verity of great projects using a mix of your intuition, imagination and assurance put in the hands of a fantastic team of talented artists!

Stay tuned!


Ran Chai Bar-Zvi- Culture, art and the thoughts in between

Photo by Or Raudanski.
Hey Ran, can you please tell us a little about yourself?
I guess I should start with the basics: I was born in Jerusalem in 1989 to two Jerusalem-born parents. Youngest of three kids, I was named Ran (meaning in Hebrew "he sings" or the feeling when you sing). Since it has almost the same meaning as my brothers' names, my second name is Chai, after my grandfather whom I never known. My last name is Bar-zvi, which is a "New Hebrew" version of the original Iraqi name (Bazrawei). My grandfather chose to use a new name for himself since it was common at that time in Israel for new jewish immigrants to leave their old identity behind and acquire a new "All Israeli" identity. My family roots and culture come from Jerusalem, Poland, Iran and Turky but if you'll ask me about my identity and culture: I am from Jerusalem.
I studied in the "Jerusalem High School of Art", in the theater department. In 2011 I finished my military service as a tour guide and educator for soldiers in Jerusalem in a hope to develop their tolerance towards the different communities living in the city.
I live Berlin since the last 2 years now and Soon I will start my 3rd semester in the "Stage and costume design" department of the
"Weißensee Kusthochshule
" in Berlin.
Can you give us a brief description of your most recent project apart from B_Tour?
Being a student doesn't leave me a lot of time to work on other projects, but I was lucky enough to find my way into Berlin's
"Month Of performing Art festival"
which during the last night I did an interactive performance with the audience.
Is there a particular motivation behind your work
?
The motivation behind my work is to make my audience go through an active experience. I create events or spaces that take the person outside of his normal day-to-day living. I belive artists have the power to translate the essence of things, events, people, and bring it to the audience in a new form. I want to open my audience's imagination and try to lead them through different ways. With this method, sometimes it feels like this is the only way for me to really convey my own ideas.
What is your process like at the moment?
First, I want to motivate the audience to join my tour.The next phase is to find the means that would help the audience psychically and mentally feel what I feel as well. Also a great target for myself is to make my audience's experience enjoyable.
To my beliefs, art can be fun, and at this time it even should be!
What does public space mean to you?
Public space for me is where I meet the world. I guess it is the most annoying space there is, because nothing plays by my roles. On the other hand, it
'
s the only place where I can get new ideas. While giving it another thought, I can't think of a place which is totally public. Meaning, are there really spaces which are fully public?
To conclude, Can you tell us a little bit about the tour you are devising for the festival?
In my tour I want the audience to feel and understand the feeling as an "expat" (a person living out side of his home land) in a foreign city. We will travel through main iconic places in Berlin and actually not talk about them at all, but talk about their essence and how they parallel to place in my hometown, Jerusalem. The tour will hold maps, photos, souvenirs and music; the full touristy shenanigans! I think that at the end, the question will come to mind will be: "Can a person (in this case me) really leave his home-land behind? If yes, to which extent?".
I have lots of young "expats" friends in Berlin and I often ask myself: Are we really living in berlin or just not-living in our home lands? If we are, what kind of relationship do we have with our new home?
T
hese are questions of global and local culture.
Coffee and a small-talk with Kaba-Hat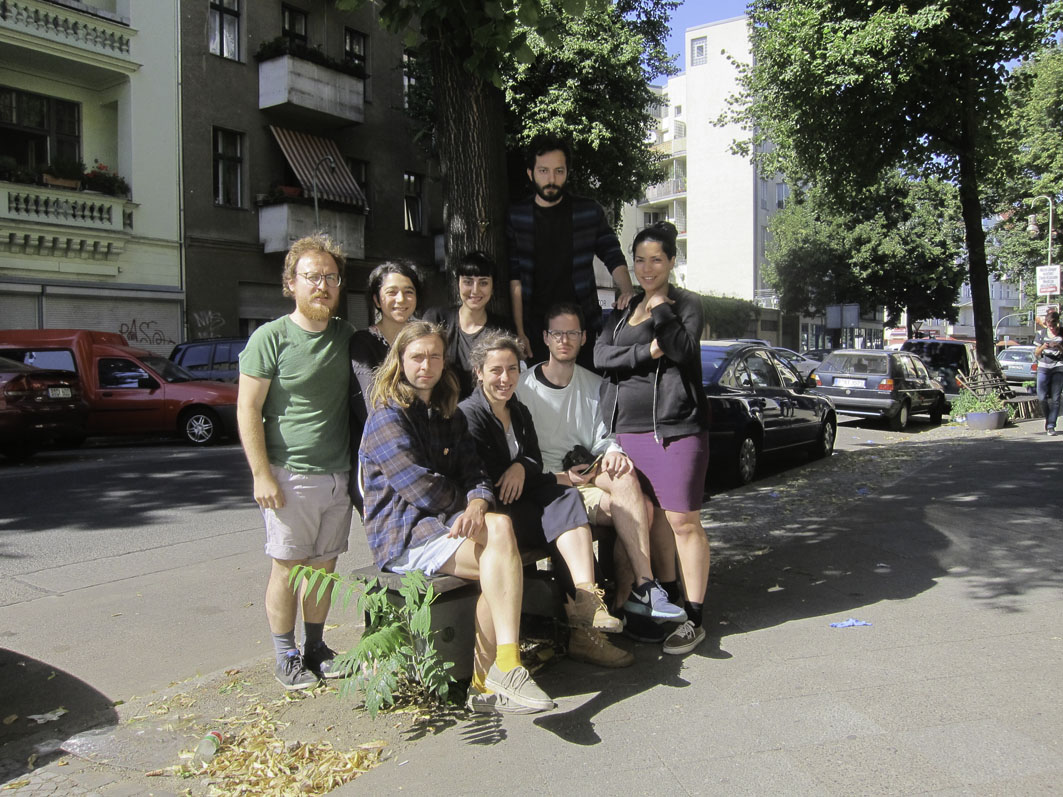 Hey there Kaba- Hat, can you please tell us a little about yourselves?
KABA HAT is an artist group from Istanbul, who work and produce together, aiming outwards the existing art industry / circus.

Can you give us a brief description of your most recent project apart from B_Tour?
At the end of July, we made a performance in the streets of Berlin and a related three days exhibition, titled Tulumba, at Institut für Alles Mögliche. We carried five buckets of water to the exhibition space, which was fetched from a water pump close to Ackerstraße. A table is built by mixing the water with some plaster. We cooked, and on this table shared the food with visitors. This act was based on the Gezi Park revolts which catalyzed public cooperation, collaboration and autonomy.

Is there a particular motivation behind you work?
We try to find ways for producing together and staying calm.

What is your process like at the moment?
We are working in Apartment Project beginning with the end of July and we are on the of devising a raft, a pirate radio broadcasting from the raft, a film about the demolished garden colonies in Neukölln, a fanzine to be published about the islands, whether deserted or not, and more. All of these would be crowned with an exhibition in the space of Apartment Project in Neukölln, at the end of August.

What does public space mean to you?
It is the space that should be challanged and liberated.

to conclude, Can you tell us a little bit about the tour you are devising for the festival?
In twenty-four hours we will travel in and around Berlin, without having any money, identity cards, electronic devices and whatsoever.


Camila Rhodi (Das Ist Doch a Love Song) tells us a bit about herself and her work...

21/08/13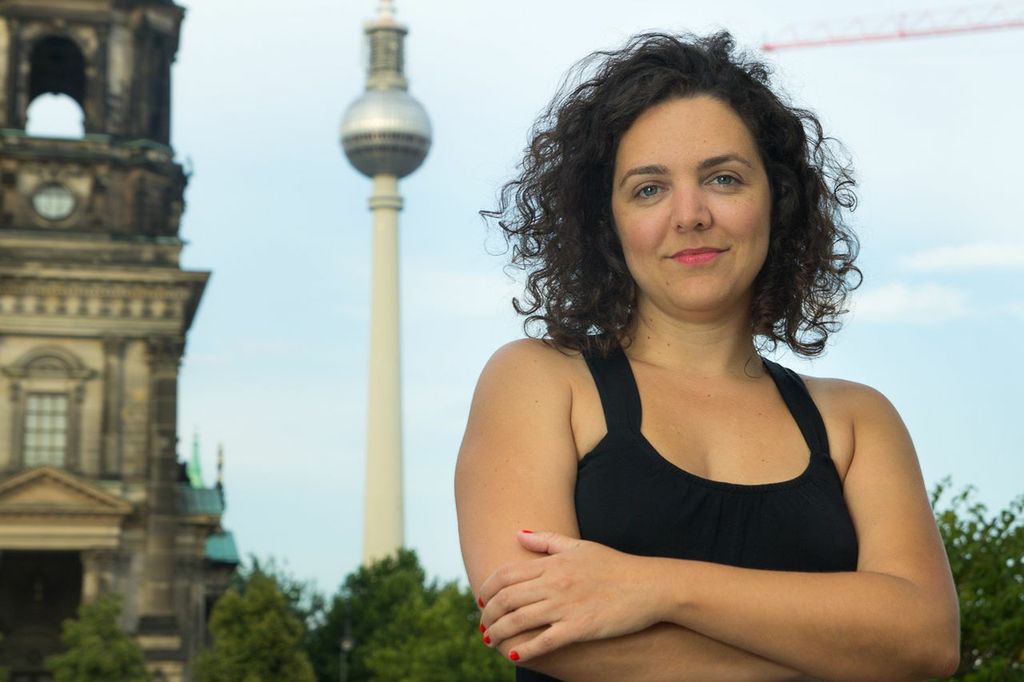 Photo by Or Raudanski.

B: Tell us a little about yourself.
C: Since 2005 I have been working with autobiography, constantly talking about strong and intense feelings, in order to talk about feelings that everyone shares. The question of absence, present throughout my works, creates a relationship with the audience that leads them to reflect upon their own stories involving this sensibility.

B: Can you give a brief description of your most recent project apart from B_Tour?
C: I will exhibit some video installations and live performances I developed here in Berlin at Musterzimmer Gallery. My new work is the video installation 'A possibility to love', a woman for a present in a gift package, a transcreation of a photo of the french photographer Guy Bourdin.

B: Is there a particular motivation behind your work?
C: Yes, my life, I always want to talk about myself to talk about everybody. I'm constantly talking about strong and intense feelings, in order to talk about feelings that everyone shares.

B: Can you tell us a little bit about the tour you are devising for the festival?
C: To the B_Tour Festival I am devising a self narrative audio tour in Berlin. Based on my memories and subjective impressions, I will converge Berlin's multiplicity and the power of a dynamic lived experience to assemble small portraits of the city based in my own experiences. There are some drops of intimate self narratives in some different points of the city.

B: What is your process like at the moment?
C: As almost all my works I devise to show to only one person at a time, most of them in a private space, it is a challenge to me to create the tour. I am finally starting to record the audios.

B: What does public space mean to you?
C: I am not specialist in this theme, but for me urban space is a continuation of everybody's home in a collective way. People built and occupy the spaces according to their own culture and history of life, arising new experiences, stories and feelings.

__________________________________________________________________________________________________________



City without people is just a ruin. But is ruin with people a city yet?

Text by Agata Rogowska

Photo Or Raudanski



Often a city is compared to a living thing, to a fibre which consists of many elements and is able to function in coordination of all of them. I like thinking about a city as an organism where character of architecture, complexity of infrastructure and individuality of a community make the city unique and build its identity. To keep a city living we can never think about it as a finished object. It demands from us a constant contestation of its elements; constant seeking of what would be the best solution for its problems and for its growth. Oh, and regarding growth…

More and more people decide to live their lives in cities. There is a serious danger that growing city will not keep pace with growing urban structures and one day we will wake up in a huge urban-suburb which doesn't have an individual character. The modern city calls for rethinking its spaces and redefining its character, simply - remapping it. Once we find a city's identity we would be able to implement it in the design of new districts and parts. The problem is to find it.

I believe city's identity lies somewhere between its buildings and the community that lives within them. It is neither only the architecture nor only the atmosphere of public/semi-public life. It is something what comes out of mixing all of this. Nevertheless rediscovering the stimulating character of urban density seems crucial in the whole process. The phraseremapping the city doesn't mean to redraw its plan – it is more about rethinking its structure, finding places that haven't existed in public consciousness. To remap the city means to find a new symbolical scheme for it to function, a new, fresh approach on how to perceive an urban fibre and how to mark public spaces.

Local governments can aim at improving a city's image in the people's consciousness, but – let's face it – the main task belongs to us, to the community that lives in this very specific site. You have seen a (google)map of your city probably millions of times, just as many as you have used gps navigation to reach a new place. Stop that! Create your own map of the city. Compound a new way to get to your job or school. Take a walk in the city centre, in your district, in your neighbourhood. Find your favourite buildings, corners or alleys. Start to discover your surroundings to better understand the place you live in. This could be the way to find the city's individual character and identity. And probably the very first one to prevent city become a huge, anonymous metropolis from our nightmares.

This text is part 3 in a blog series by Agata Rogowska

_______________________________________________________________________________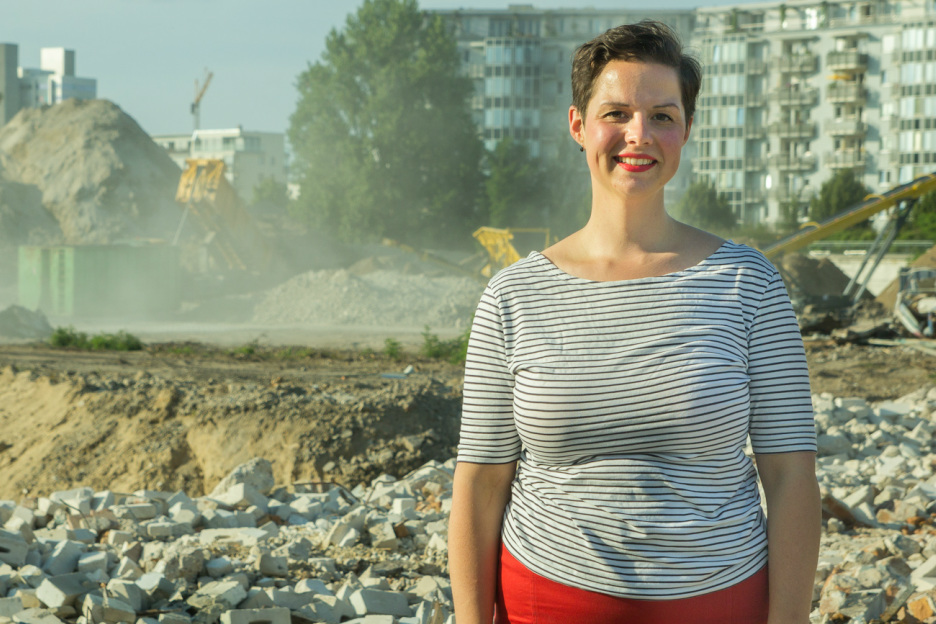 Highly Constructed and Drastically Changed Places - with artist Birte Endrejat

Photo: Or Raudanski

Hi Birte, tell us a little about yourself.

I have been a resident in Berlin from 2002-04 and again since 2009. I studied at Hochschule für Künste Bremen and Université du Québec à Montréal. In my artistic work, I examine the relationship of constructed public and semi-public spaces and the local action. I start from the question of how the place (and its physical and psychological structure) is reflected in the actions of passers-by.

Can you give a brief description of your most recent project apart from B_Tour?

For a period of 3 years I observed visitors in international museums. For a group-show in a Museum in Bremen I developed 17 different information-sheets which looked like the ones you get in the museum. Each was listing the observed actions from one other museum, additionally I had a group of people performing the observations. All actions happened unannounced and as non-theatrical as possible so they would blend in with reality.

Is there a particular motivation behind your work?

I wonder quite often myself. …sometimes I think it's about handling the 'outside' by breaking it into smaller pieces and putting it back in place. (maybe I liked puzzles too much when I was a kid).

Can you tell us a little bit about the tour you are devising for the festival?

The tour is not so much a sequential tour as it is a group of places that you don't necessarily have to visit one after the other. It adds a layer to a given situation and hopefully underlines the place itself. It's very much a continuation of what I did before and it has been my desire since a long time to focus a work on (recent) aspects of Berlin.

What is your process like at the moment?

I am researching the places and actions, developing the general structure and planning the steps needed.

Berlin has so many connotations and references to consider - historical incidents are very much represented through locations - I am trying to consider historical contexts but also pick sites intuitively if I find them suitable.

What does public space mean to you?

Per definition I would think about places that don't exclude. In my work I focus on public places as forms that represent society. Public spaces lead to specific behaviour as they are build for specific purposes and always represent a Zeitgeist - mostly also a current government. I am curious how this will change in the future as people are more engaging in creating the public space themselves.

This article is part of a series on festival participants.
_________________________________________________________________________________________________________


To Build A Better Society
Text by Agata Rogowska
Photo by Or Raudanski
Sometimes the idea of guiding through unknown space may become a chance to better understanding of problems with which local society is struggling. Leaving the artistic approach behind, guides are trying to explain the real character of the area hoping it will increase empathy in visitors.
The first example I have on my mind is a project called
Dialogue in the Dark
. It is a series of organized tours through an exhibition where rooms represent public spaces but are kept in the total darkness. Guides – blind people – lead small groups helping them to orientate themselves while answering questions about their disability. Solidarity and comprehension are main qualities that organisers want to awake in society by this project.
Initiators of
Unseen Tours
had a similar idea of unity. Homeless guides show London from different points of view, sharing with spectators stories of their lives. Moreover, the project aims to help guides to make a new living (they receive about 80% of ticket revenues). What seems crucial is a distinction between the tour of the homeless and the tour with them; Unseen Tours is not taking an economical advantage of pointing out poverty and social problems of the city. Instead it takes an active part in educating society about its own marginalised contingents.
'This is a different form of encountering the world. Not just through the places, but through the people as well. As a tourist, I can often visit monuments, cities, and regions. There is a fuller picture, however, in meeting people – the locals who are an inseparable part of the reality' says Marcin Doś who founded with friends project
Alternative Silesia
.Through guided tours, discovering again well-known places and its residents, they are trying to infect other people with their enthusiasm about Lower Silesia – the most industrial part of Poland. The project aims in developing urban identification of the region and people's connection with the place where they are living.
Sometimes the reason for planning guided tours might be very political one. This is the case of project
Cabañal
Open Doors
(in valencianCabanyal Portes Obertes). Since the local government is trying to implement an urban plan to demolish an old, beautiful part of Valencia in the name of extending city's main avenue, the association of local inhabitants is
fighting
to maintain the district's character. As the government refuse to take any actions in renovation of the district, Cabañal is gaining fame as a neglected and rather dangerousneighbourhood. Open Doors is a series of concerts and exhibitions which take place every year in houses of regular citizens. The aim is to show to the city every-day life in the district and to let people get to know its real inhabitants. It is probable that when citizens connect the name of the district with real names of people they will join the fight for its preservation.
As long as to guide means also to let someone enter our world, guided tours are a good way to get to know different social-groups and to start to understand them better. Hopefully all these projects will gain their objectives and impact the local communities in building more conscious society.
This text is part 2 in a blog series by Agata Rogowska
_________________________________________________________________________________________________________
"Verkehrsbegleitgrün"

With Anna Sprang and Lars Roth of Strollology
Photo by Or Raudanski
"strol­ling through Ber­lin, collec­ting impres­si­ons of the city while moving around from A to B, as well as 'strol­ling' the inter­net in search of his­to­ri­cal curio­si­ties and images."
Hi guys, tell us a little about yourself
We're Anna Sprang and Lars Roth, the authors of strollology.com. We met at the Art School in Kassel, where we both studied visual communication. Our artistic collaboration started in 2007 with documenta12blog and Palmenhain 2.0, a digital communication project we realised in cooperation with the curators of documenta12. After detours to New York City and Brunswick we moved to Berlin in 2008/2009. Anna is working as an art director at
VICE
and Lars is a professor for Visual Communication and New Media at the
hdpk
.
What is your relationship to Berlin as a city?
Berlin is a great place to live, especially for creative people. You've got the freedom to do whatever you like. Its eventful history is still present in a lot of places – sometimes visibly, sometimes hidden beneath the surface. At the same time, you can feel a strong sense of excitement about the future throughout the whole city. This contrast creates an interesting tension for everyone interested in history and urbanity.
Can you give a brief description of your most recent project apart from B_Tour?
In 2012 we started
strollology.com
, a blog about strolls through Berlin, digging up the stories behind places and rediscovering Berlin's many overlooked corners. We also offer regular cultural-historic strolls through Neukölln in cooperation with our friends over at
Slow Travel Berlin
.
What is the driving force behind your work?
The interest in the history and development of public space and how we perceive it. In our artistic work, we're documenting the as-is state of our environment, while understanding it as just one of countless historic layers. We both have a background in visual communication and the intense involvement with perception plays an important role for us, especially in the context of the every day. Even small shifts in the viewing and perception habits can change the way we see things, like trying a new route to work in the morning, or discovering the backyards of the buildings in a familiar street.
Can you tell us a little bit about the tour you are devising for the festival?
Our tour is based on the concept of Lucius Burckhardt's
Spaziergangswissenschaft
(in English strollology, the "science of strolling"). Based on field trips, Burckhardt engaged in matters concerning the perception of landscape. He argued that landscape should be considered a construct created by our imagination rather than being an environmental phenomenon. Our perception is based on a cultural package of previous representations – only in exceptional cases we perceive something that we haven't been prepared to by our cultural background, by literature or by pictorial representations.
Our tour follows the route of a typical weekend stroll outside the Berlin city gates in the 18th and early 19th century: leaving the city at Cottbusser Thor (now Kottbusser Tor), down a sandy road lined by trees, towards the vast meadows around Hasenheide – even then a popular local hangout. The traditional narrative depicts an archetypal landscape that is deeply rooted in our cultural heritage and that we're prepared to think of as beautiful. In the course of the centuries, the city has spread far beyond its old gates, and erased all traces of the area's former rural character. Nowadays, following the same route, we walk along a six-lane road, through the busy Kreuzkölln neighborhood to Hermannplatz, a chaotic square where the traffic converges – be it by car, on foot, on bike, or on the underground. Our tour reflects the historicity of the places, but also raises the question how the same stroll could be narrated today. Is Kottbusser Tor beautiful? And if so, what images and aesthetic "pre-formulations" would we use to describe that beauty?
What is your process like at the moment?
After developing the tour concept, we had to find a form. We've decided to do it interactively, with some sort of "reverse" geotags. Imagine them a bit like being real life google map pins. We like the idea to link the narration to its actual location in public space – accessible not only to tour participants, but also to random passers-by. Each station asks the audience to reflect their relationship to the urban environment. Participants are invited to contribute their own narration by uploading the photos onto our website.
What does public space mean to you?
Public space is a habitat that you share with others. Such a space requires constant interaction and communication. That means, it is perpetually changing.
How do you see Berlin as different from other world cities?
"Berlin is a city condemned forever to becoming and never to being." German publicist Karl Scheffler said that in 1910, I guess that kind of proves him right.
This article is part of a series on festival participants.
_________________________________________________________________________________________________________
Guiding Through Imagination
Text by Agata Rogowska
Photo by Or Raudanski
So here we come – B_Tour: the first alternative guided tours festival. While waiting for the first edition (30.08-01.09!), let's take a look at different ideas of what guided tour might be.
Guided tours live their own golden age today. There is no exhibition opening where a curator wouldn't try to explain to the audience the significant role of his/her and artist's creative act. National Galleries and Museums organize plenty of possibilities to participate in a classical guided tour through their collection. Tourist agencies go to great lengths to attract clients by inventing new, alternative themes for city guided tours (twilight tour, street-art tour, pub-crawl tour etc.). In other words: guided tours are everywhere!
But let's take a look at the idea of guided tour a bit differently. At the Festival we aim in promoting interventions based on social or political commitment with a great sense of artistic expression. That means that we value projects whose final product on the one hand is claimed to be called an artwork and on the other relates to the discussion about public spaces. Nevertheless some artists, using the same means of organization as guided tours do, create installations which – even if less committed – are interesting and worth mentioning.
Every guided tour has in its merit the idea of following someone, of seeking what is hidden, of choosing the same way as someone did before and, above all, of reflecting the guide's individual point of view or point of knowledge on something. Borrowing these aspects, some artists invite viewers/participants to enter their own world of personal feelings and thoughts.
It is funny how - in many cases - the act of guiding someone is treated as an exact indication of the route which does not allow the spectator to have a different point of view. This is the idea for an exhibition in
German Pavilion
or project
Cloudscapes
– both at Venice Architecture Biennale in 2012. Even if there is a lack of a guide in person in these installations, the system of projected paths introduces a singular perception. We cannot choose our way to explore the space – the path has been decided for us and it is unchangeable. Really charming example of this last aspect is project
Forest from Forest
by Takashi Kuribayashi in which main installation is accessible only from a few projected spots – the rest of artist's world is hidden from the spectator. Going toward the extreme understanding of what is exploring the unknown we must stop at
Feeling are Facts
by Olafur Eliasson and Ma Yansong . Artists instead of clarifying the surrounding make it even more complicated and confusing. Participants are forced to forget about their previous perceptions and to discover the space only by feeling it.
Of course it would be hard to call projects I mentioned guided tours. The main difference is that instead of guiding participants through existing space, artists are creating new ones to be explored. They are a kind of artificial world reflecting not reality but somebody's emotional experience. Instead of discovering the outside, we are turning toward the inner world of imagination. What remains the same is the idea of discovering someone else's point of view, getting closer to the unknown and understanding what was unclear before.
This text is the first part in a blog series by Agata Rogowska.
_________________________________________________________________________________________________________